Post Protector delivers a tough "Barrier System" which eliminates "soil-to-wood" & "concrete-to-wood" contact.
Simple, slide-on installation.
Backfill material can be soil, concrete or stone.
Vertical venting system allows the post to breathe.
Drainage holes at bottom for moisture
3 things needed for post decay Oxygen, Temperature, and Moisture.
---
Sturdi-Wall®
The Sturdi-Wall® drill set model is designed and engineered for applications in which the concrete foundation has already been poured and cured such as top of slab, stem wall etc. This method eliminates post decay because the posts are not in contact with soil or concrete. Another benefit is the ability to add more posts should you decide to add another walk door or garage door at a later date.
Sturdi-Wall® anchor brackets are constructed of American-made 1/4-inch steel, robotically welded, and finished with a durable powder coating.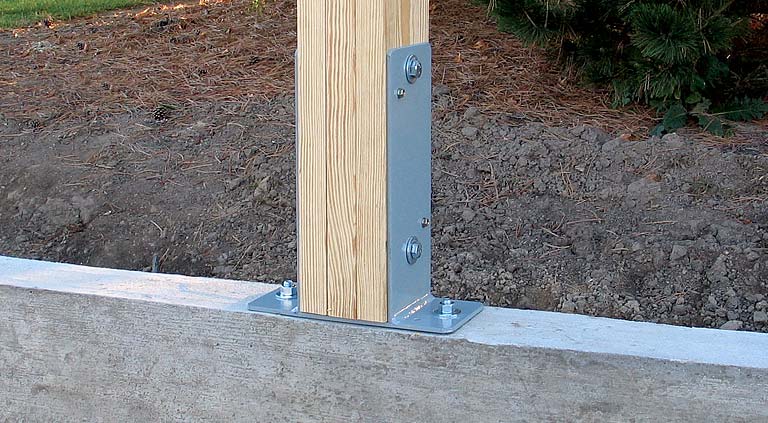 Sturdi-Wall® Plus
Providing the highest ultimate-strength connection to your foundation, Sturdi-Wall® Plus anchors are installed while concrete is still wet.The wet set model is ideal for pier foundations and stem walls. Robotically welded rebar eliminates the need for drilling and securing with concrete fasteners. Sturdi-Wall® Plus features special-grade 1/4-inch or 5/8-inch rebar that is seismic-rated. Both post-frame anchor bracket systems feature the EpoxZi Shield coat that exceeds 2,500 salt-spray hours, preventing corrosion, resisting UV damage, and providing a professional look.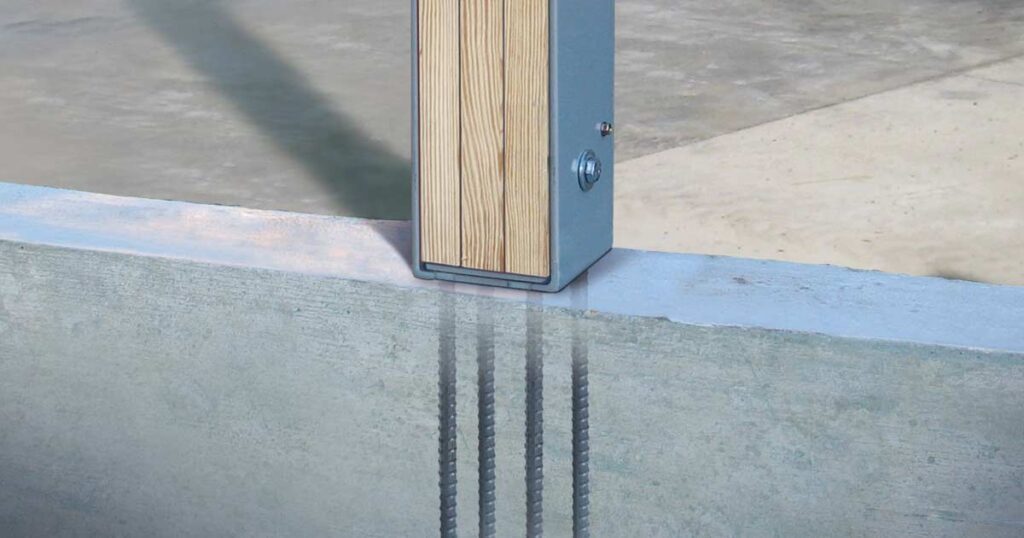 Perma-Column System
Advancing post-frame construction, Perma-Column® elevates wood columns out of the ground and eliminates rot. Protect your building investment with the patented foundation system backed by a lifetime warranty. It installs quickly and easily using your current post-frame building methods. Clients trust in the engineered foundation solution that combines the economy of post-frame construction with the durability of a concrete foundation.
3x stronger than standard concrete
10,000 PSI precast concrete + 60,000 PSI rebar
Powder-coated ¼-inch steel bracket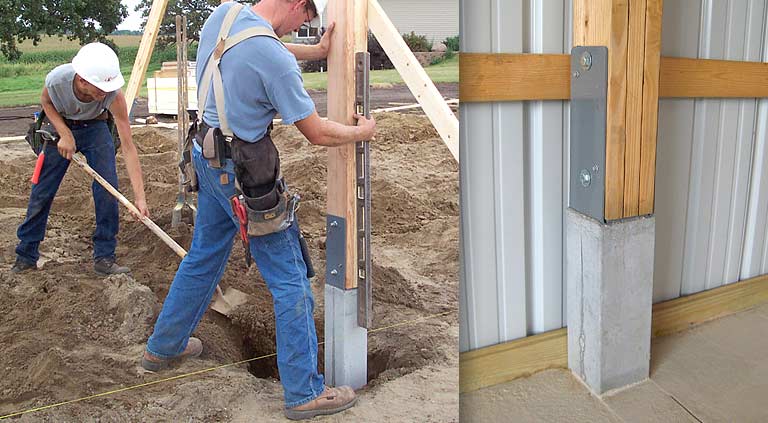 Engineered to last
Perma-Column® uses the latest in SCC precasting technology. We use microfibers to add shock resistance and durability and microsilica to enhance flexural/compressive strength and erosion resistance. A corrosion inhibitor protects the rebar reinforcement from rusting, and a final admixture is added for freeze and thaw protection. Our proprietary powder coat has been tested to exceed 2,500 salt spray hours. Our patented design guarantees a lifetime of durability. All the steel we use is premium, high-strength alloy purchased in the U.S.